MPIL WELLNESS
Regular price
Rs. 290.00
Sale price
Rs. 340.00
Unit price
per
Sale
Sold out
Share
FOR FREE CONSULTATION CALL  @+91 8588893655
The Complete Digestive Tonic for your Body
USP 
1. Tringasav is an effective digestive tonic, which contains more than 25 herbs to provide relief to your digestive system. 
2. Tringasav helps in reducing the Pitta Dosha from your body, and provide the stability and agility it requires. 
3. It also helps in increasing your appetite. 
4. Tringasav also reduces the acidity content due to the presence of Shatavari, Mulethi, Triphala. 
5. It also acts as an anti-inflammatory and provides relief to the stomach. 
6. Tringasav also provides the features of Antispasmodic, anti-stress and antioxidants
Indications
Indicated in blood deficiency, digestive and respiratory problems, general weakness, cough, jaundice & loss of appetite. It is also used in general weakness and deficiency of iron in the body.
Dosage 
Tringasav is to be consumed twice in a day after meals, 30ml in each dose with 15 ml of water. 
[custom tab]
It is in a syrup-like formulation that contains more than 25 herbs to provide relief to your system. 

Each 10 ml Asava Contains :
Phoenix dactylifera
Khajur
200 mg.
Bassia latifolia
Mahua
200 mg.
Aloe barbadensis
Aoe
2.5 mg.
Vitis vinifera
Draksha
200 mg.
Eclipta alba
Bhringraj
100 mg.
Boerhaavia diffusa
Punarnava
100 mg.
Tecomella undulata
Rohitak
100 mg.
Carica papaya
Papita
50 mg.
Termenalia chebula
Harad
33 mg.
Termenalia belerica
Bahera
33 mg.
Emblica officianalis
Awla
33 mg.
Cyperus scariosus
Nagarmotha
50 mg.
Embelia ribes
Vidang
50 mg.
Curcuma longa
Haldi
50 mg.
Cedrus deodara
Devdaru
50 mg.
Glycyrrhiza glabra
Mulaithi
50 mg.
Tribulus Terrestris
Gokhru
50 mg.
Berberis aristata
Daruhaldi
50 mg.
Plumbago zeylanica
Chitrak
50 mg.
Tinospora cordifolia
Giloy
50 mg.
Konch beej
Konch beej
50 mg.
Saccharum officinarum
Gur
5 g.
Parkshap Dravya
Woodfordia fruticosa
Dhay phool
50 mg.
Piper nigrum
Marich
20 mg.
Piper longum
Pippali
20 mg.
Piper longum
Pippalamool
20 mg.
Syzygium aromaticum
Laung
20 mg.
Cinnamomum zeylinicum
Dalchini
20 mg.
Elettaria cardamomum
Elaich Chhoti
20 mg.
Piper cubeba
Kankol
20 mg.
Ferrum Oxide
Loh Bhasma
3 mg.
Sodium bensoate
 
Q.S.
Flavour
 
Q.S.
 
[/custom tab]
View full details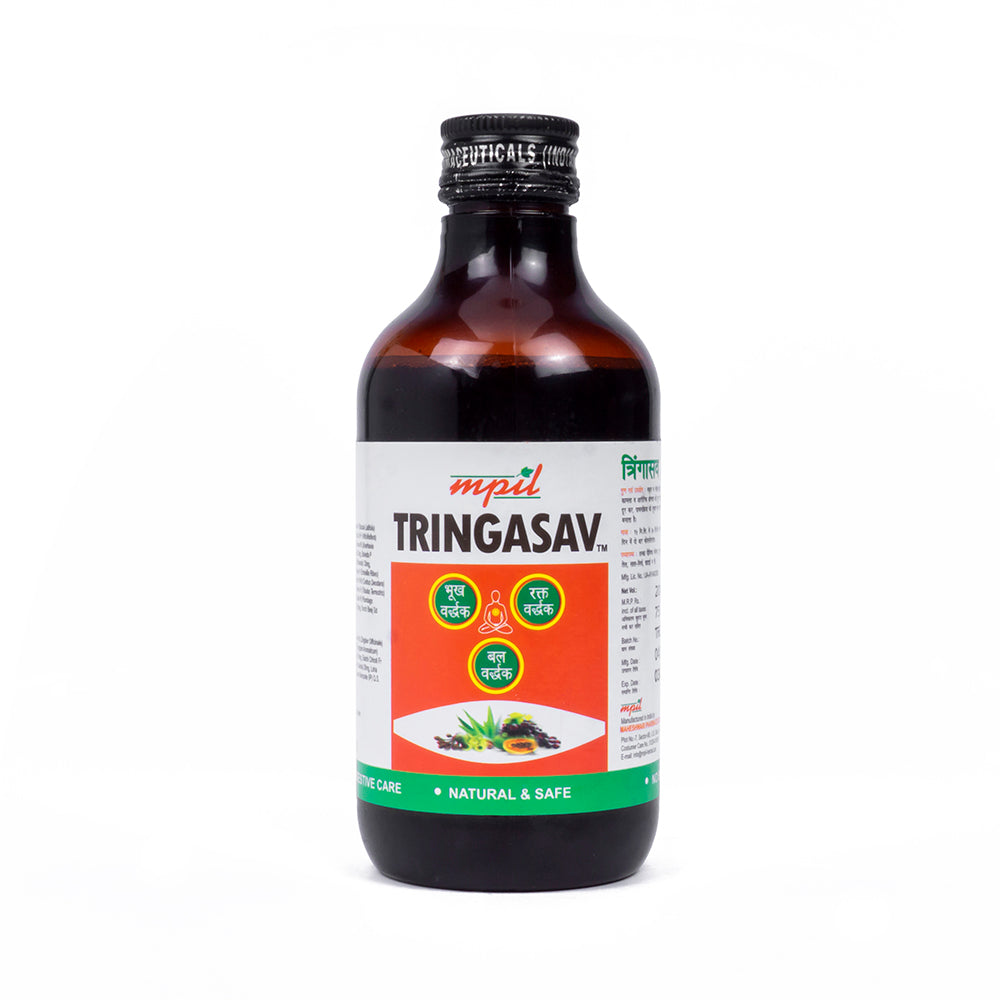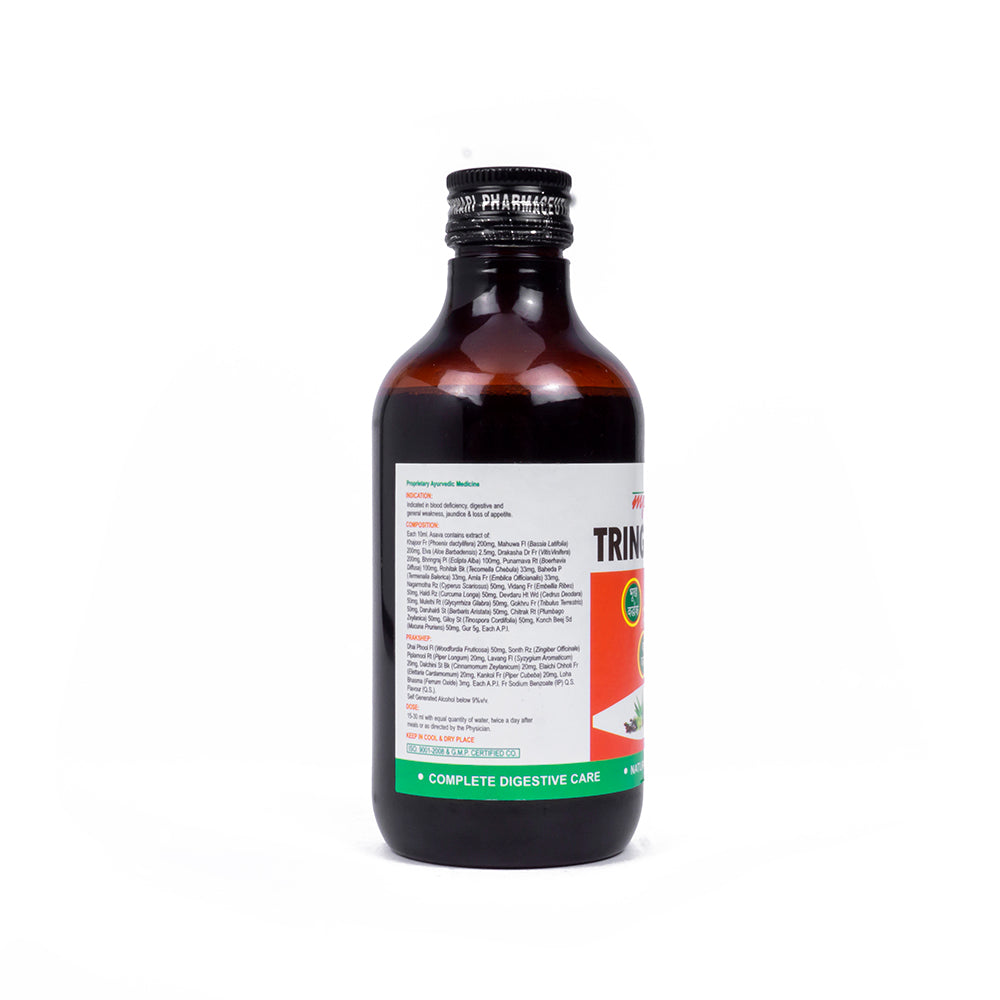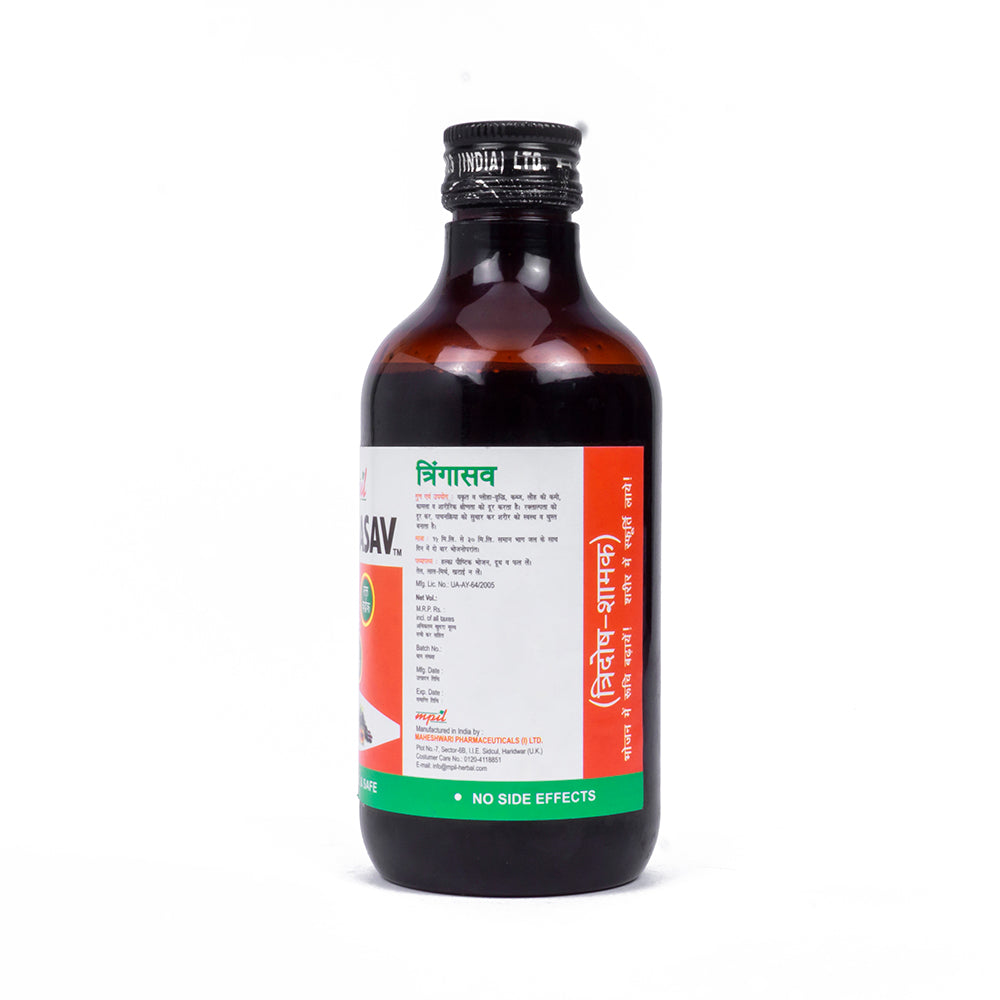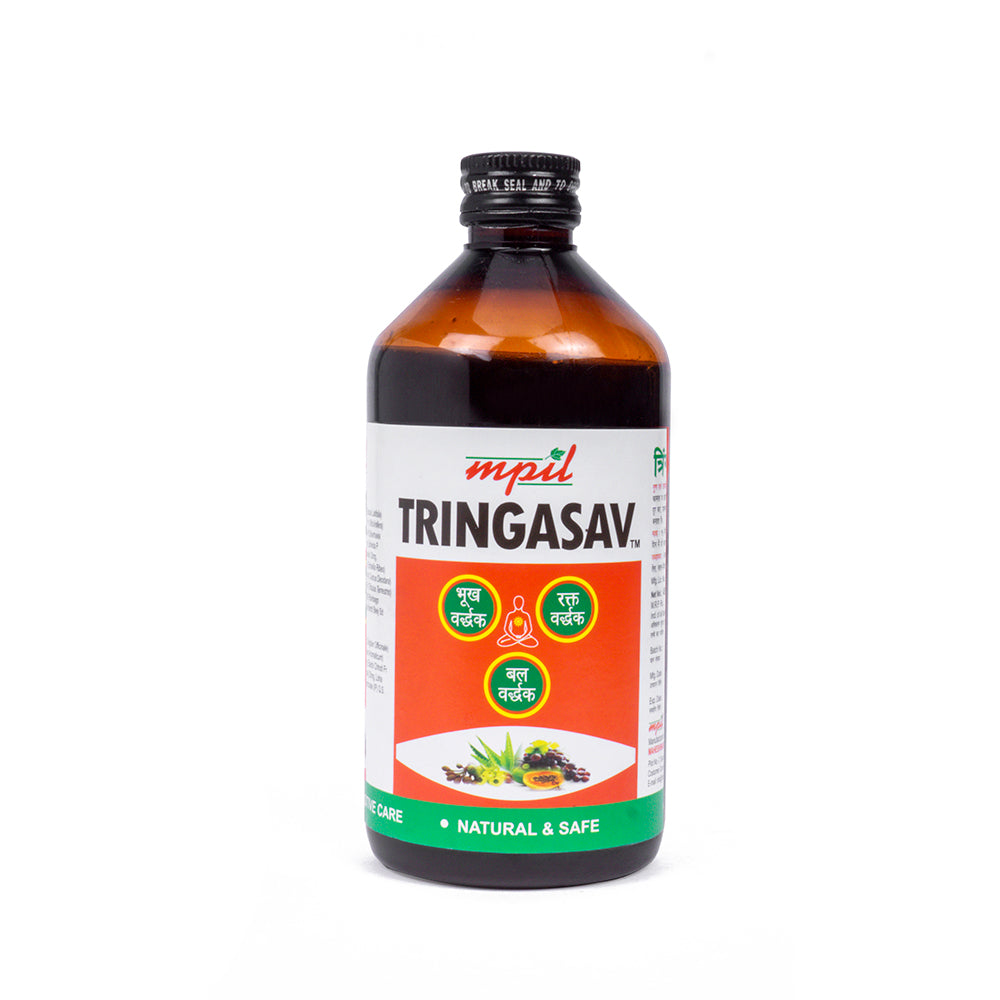 It's too good
इसे मैनें सपने में देखा था इसलिये आर्डर किया । हां ये सचमुच में मेरे सेहत के लिये अच्छा है।मैं इसे अभी और लेना चाहुंगा ।MPIL ka tringasav वास्तव में भूखवर्धक,रक्तवर्द्धक एवं बल वर्धक है ।मैं इसे औरों को भी लेनें की सुझाऊंगा ।