Trusted by 1,00,000+ Customers
Complete PCOD Solution
All products delivered within 4-6 days.

LabTested

Cash on Delivery

Free Shipping

Made in India
View full details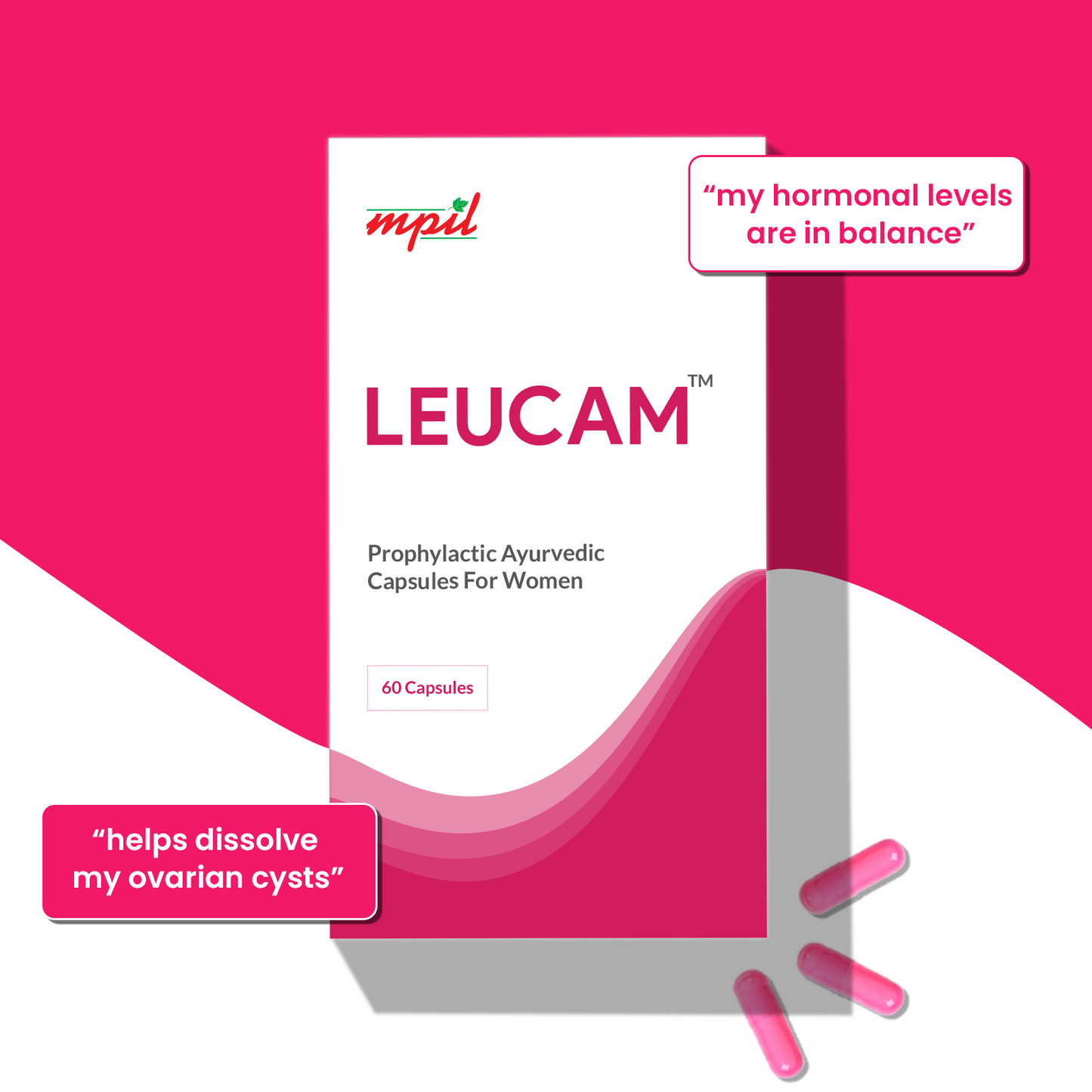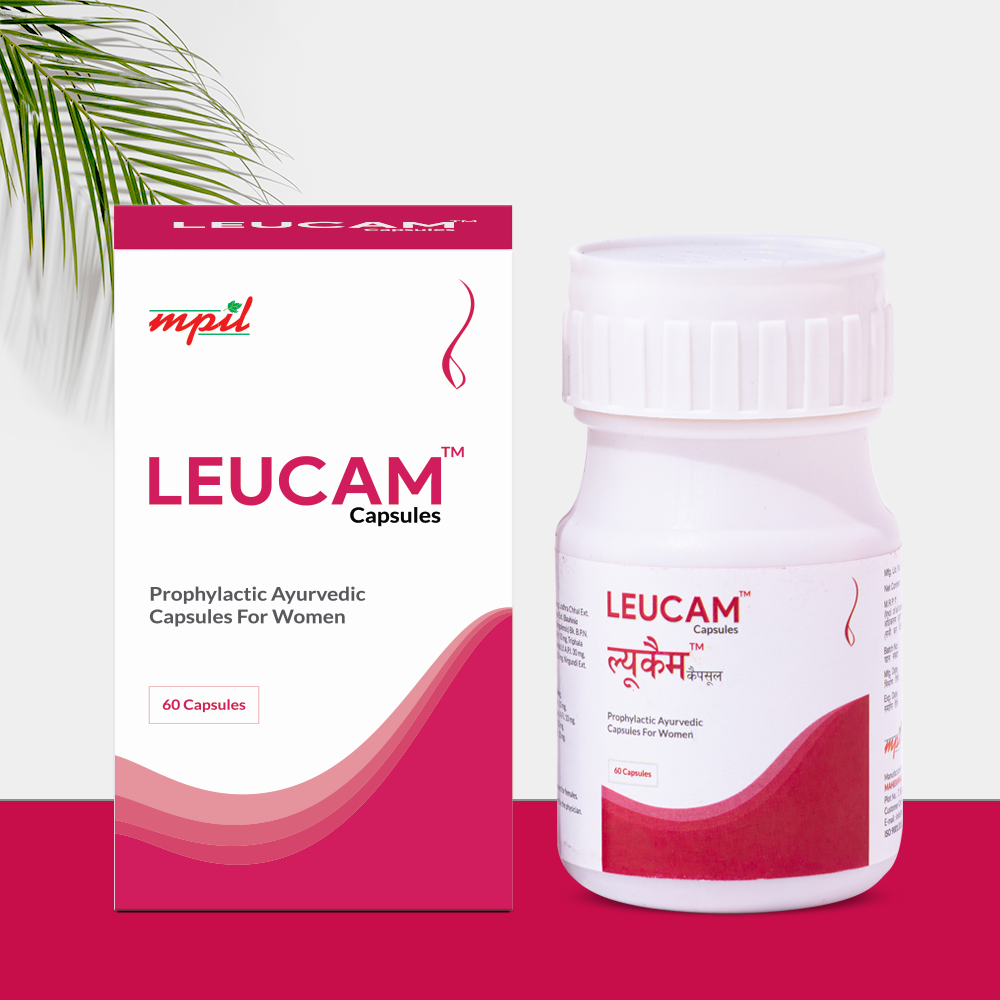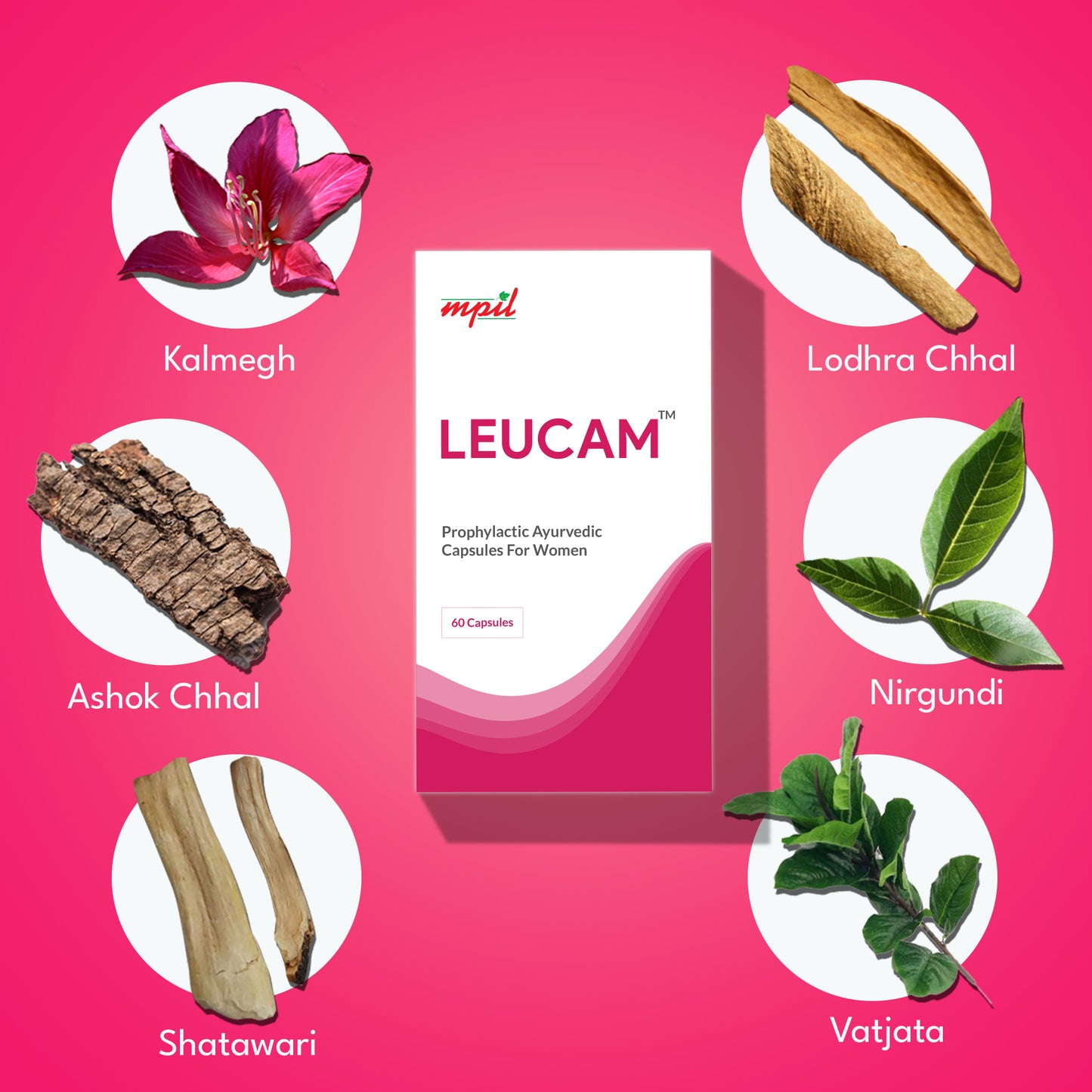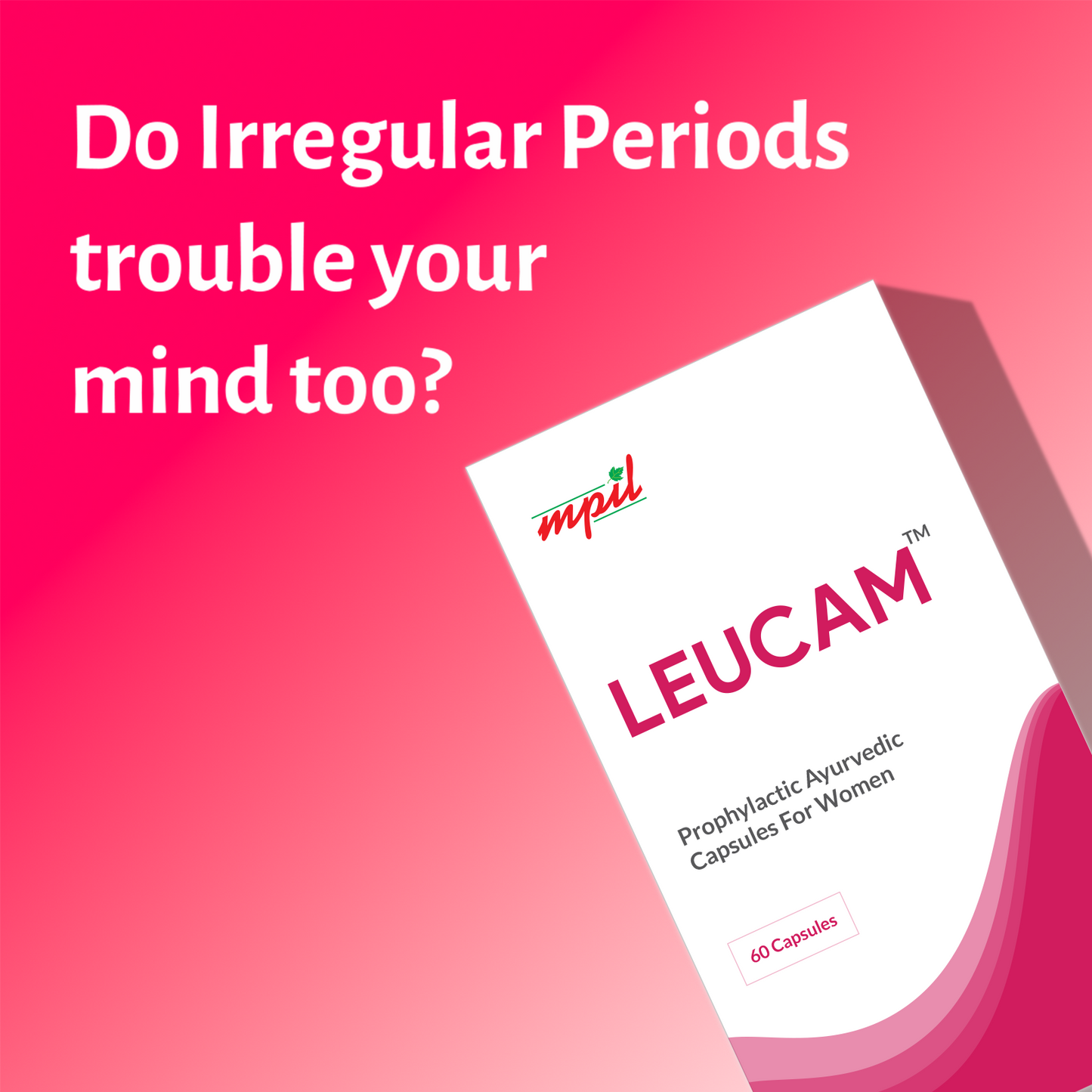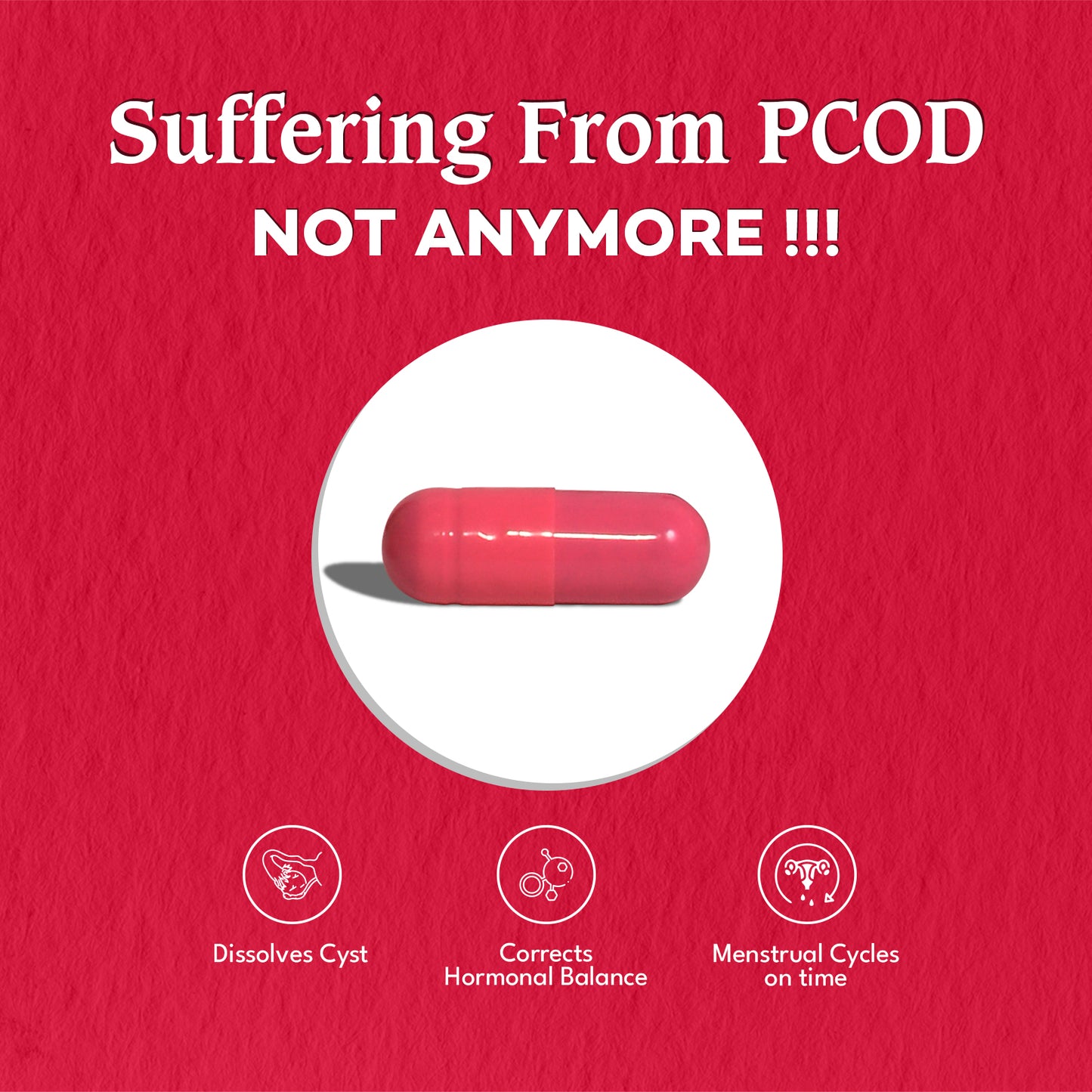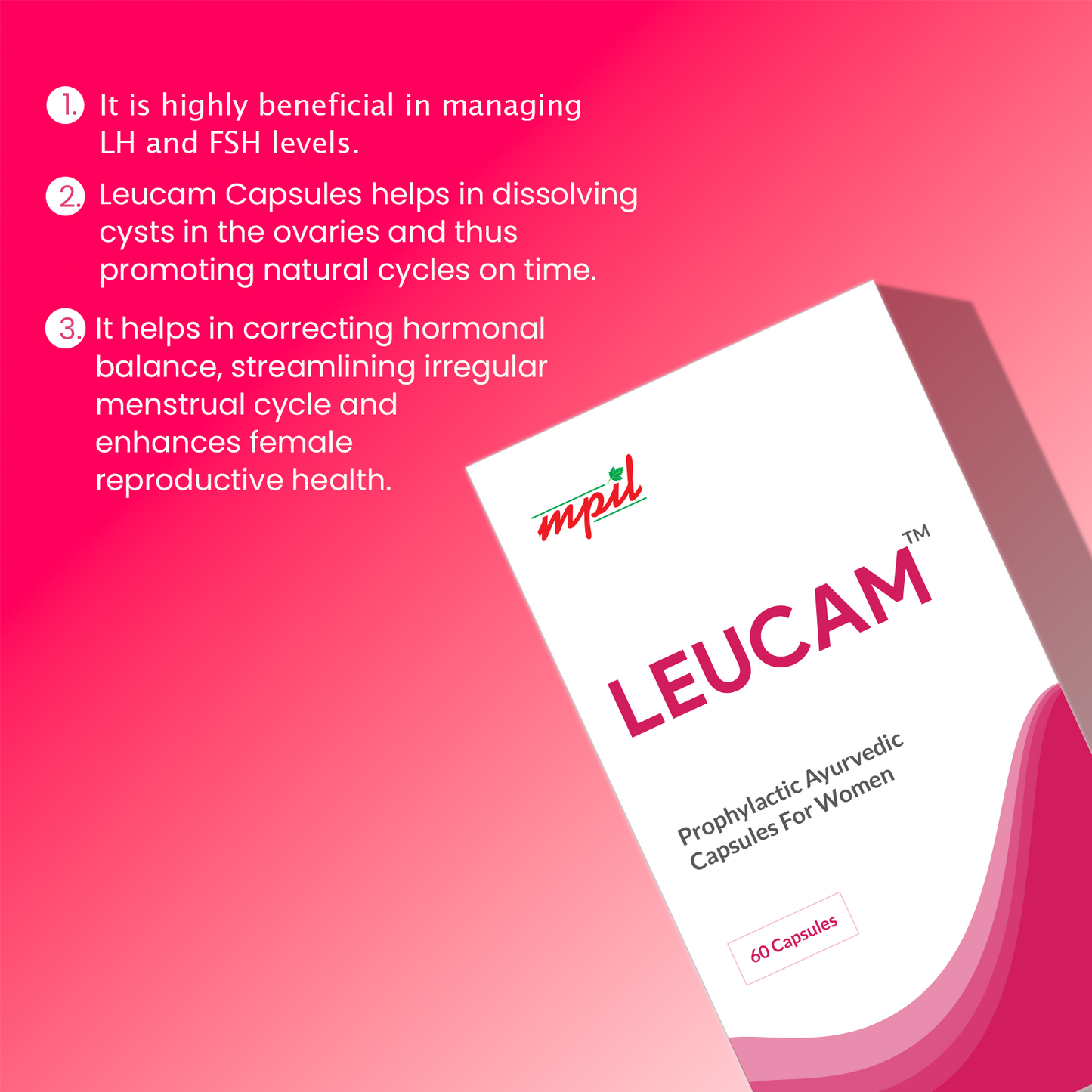 Description
Leucam Capsules effectively combat PCOS, a common condition in 90% of females today. Paired with lifestyle changes, Leucam Capsules swiftly yield positive results for women's health. Notably, they enhance conception prospects by regulating key hormones—FSH and LH—for hormonal balance. Kachnar Guggal, a pivotal ingredient, fortifies ovaries.
Patient testimonials reflect successful conception with Leucam Capsules. Moreover, it rectifies nutritional imbalances from excessive blood loss, strengthening reproductive organs and promoting overall well-being. By addressing excessive bleeding and genital function, Leucam Capsules contribute to reproductive health and combat psychogenic disorders.
Leucam Capsules blend Kachnar, Ashok, Lodhra, Shatavari, Nirgundi, and essential minerals like Swarn Makshik Bhasma, Yashad Bhasma, Spartica Bhasma (iron, zinc, copper). This fusion safeguards against a range of concerns spanning womanhood to menopause, including PCOS, hot flushes, irregular discharge, DUB, amenorrhea, menorrhagia, and PMS—fostering holistic well-being.
Why Trust us?




FAQs
What are MPIL Leucam Capsules?
MPIL Leucam Capsules are natural supplements formulated with a blend of herbal ingredients known for their potential in addressing Polycystic Ovarian Syndrome (PCOS). These capsules aim to provide holistic support for managing PCOS symptoms and promoting hormonal balance.
How do MPIL Leucam Capsules work?
MPIL Leucam capsules work by utilizing the therapeutic properties of various herbal ingredients like Kachnar, Ashoka, Lodhra & Shatwari. These ingredients may help regulate Dissolve cyst, hormonal imbalances, improve ovarian function, reduce insulin resistance, and manage associated symptoms such as irregular periods, acne, and excessive hair growth.
Are MPIL Leucam Capsules safe to use?
MPIL Leucam Capsules are considered safe when taken as directed. However, it's advisable to consult a healthcare professional before starting any new supplement, especially if you have underlying health conditions or are taking other medications.
Can lifestyle changes enhance the effects of MPIL Leucam Capsules?
Yes, lifestyle changes such as adopting a balanced diet, exercising regularly, managing stress, and getting adequate sleep can complement the effects of Leucam capsules. A holistic approach combining supplements and healthy habits is often recommended for managing PCOS effectively.
How long does it take to see results with MPIL Leucam Capsules?
Results can vary based on individual factors, including the severity of PCOS symptoms and overall health. Some individuals may experience improvements in a few weeks, while others might take longer. Consistency in taking the capsules and maintaining a healthy lifestyle can contribute to better outcomes.
Are there any side effects of MPIL Leucam Capsules?
MPIL Leucam Capsules can have potential side effects, although they are generally considered safer than synthetic alternatives. Side effects could include digestive discomfort or interactions with other medications.
I have 9 month baby cani use this medicine i saffring from pcod.
Effective
Abnominal pain almost gone but but the weight has not reduced yet, it will be known at the end of the month whether the weight is reduced or not
Batteling with PCOD since 15 years... without any permanant solution...and finally got the solution all because of leucam capule
Amazing results with in 1 month